Invisalign for Straightening Teeth
Many of our patients at Aesthetic Dental Center of Bergen County are surprised to learn of the incredible transformation that traditional braces have gone through recently. Long gone are the days of clunky braces that stood out like a sore thumb. Thankfully, these types of orthodontic appliances have been replaced with smaller brackets that look much better on the teeth. However, if you are still not sold on traditional braces, we have another option available.
We are happy to offer you Invisalign therapy as a popular alternative to conventional metal braces. Dr. Vladimir Meskin, a general and cosmetic dentist at Aesthetic Dental Center of Bergen County and a Certified Invisalign Provider, has been successfully improving the smiles of dozens of patients utilizing Invisalign for more than a decade. This remarkable system provides braces without any brackets, wires or bands. Invisalign has only been around for about two decades, so many patients are unaware of this advancement in orthodontics. Keep reading to learn what you should expect from the Invisalign system.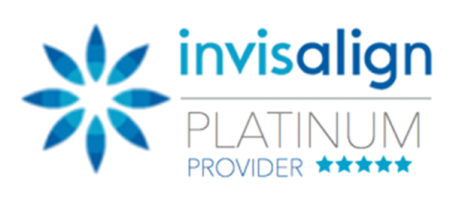 What is Invisalign?
Although Invisalign has only been around since the late 1990s, similar systems have been in use for a few decades longer. The Invisalign system relies upon proprietary software that helps us plan the movements to shift teeth into their correct positions using individual aligners. As each stage of the process ends, your aligners will be swapped out for new ones to continually shift your teeth into their proper alignment. The normal interval is every week or two, but the precise time is dependent upon your individual treatment plan. When patient compliance is optimal, Invisalign is every bit as effective as conventional braces. Over seven million patients have been helped with the Invisalign system.
How do I care for my Invisalign aligners?
You should be cleaning your aligners before you insert them. Every time. You can use a soft toothbrush with a small amount of toothpaste and water. Take care to thoroughly rinse each aligner using water after you have cleaned it.
Before eating and drinking, you will want to remove all of your aligners. However, if you're drinking cool water, it is not necessary to remove your aligners. Be sure that you are brushing and flossing your teeth following every meal, and before you reinsert your aligners.
Anytime your Invisalign aligners are not within your mouth, they need to be in storage in your Invisalign case. Make sure that your aligners are out of reach of pets and young children. Do not store them in extreme temperatures, as this could warp the plastic.
How is Invisalign superior to traditional braces?
As we mentioned earlier, traditional braces have come a long way. They are smaller and less obtrusive than in the past. However, Invisalign still offers greater freedom and flexibility. With Invisalign there are no more food restrictions. If you wear traditional braces, you must avoid eating anything that could stick to your teeth or dental work. Invisalign allows you to conveniently remove your aligners to eat. So you don't have to give up your favorite foods and snacks!
The removable aligners used in Invisalign also mean that maintaining proper oral hygiene is far easier. It can be difficult to brush and floss around wires and brackets. In contrast, Invisalign aligners are removable, allowing you to brush and floss normally. There are also special kits available that help you to quickly clean your aligners before replacing them.
Since no bulky wires or brackets are involved, Invisalign is great for both athletes and musicians who play instruments affected by conventional braces. The removable aligners are also convenient for anyone who wants to display their natural smile during a public event like weddings, proms or senior pictures.
Ultimately, to determine if Invisalign makes an appropriate treatment choice for you, we need to meet with you during a consultation. If you would like to schedule a consultation with Dr. Meskin, please reach out to Aesthetic Dental Center of Bergen County today.